Twenty years ago this week, Tom Tupa, the well-traveled punter-quarterback (Cardinals/Colts/Browns/Patriots/Jets/Bucs/Redskins), staked off a little bit of history for himself. Can you remember what he did?
In Cleveland's opener against Cincinnati, Tupa scored the NFL's first two-point conversion. (That is, as opposed to the two-pointers scored in the AFL before the leagues merged and eliminated the option — temporarily.)
After the first Browns touchdown, Tupa trotted out to hold for the PAT. But after taking the snap, the Cleveland Plain Dealer reported, he "duped the Bengals and ran up the middle" for two points, giving his club an 11-0 lead. Cincy never recovered. (Or something like that.)
His daring coach? Bill Belichick — the same guy who, following a Patriots TD in the 2005 regular-season finale, said to Doug Flutie, "Why don't you go in and dropkick the point-after?" (The 43-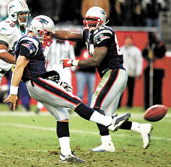 year-old Flutie, playing in his last NFL game, booted it right through, of course.)
Tupa became a minor sensation in '94 by scoring three two-point conversions, which tied the AFL record for a season and is still the second-most all time. Here's a newspaper story detailing his heroics. According to this account, "The Bengals overplayed the right side of the Browns' line, Tupa took the direct snap from center and ran untouched to the left behind Orlando Brown's pancake block on Steve Tovar."
Note, too, Tupa's two-pointer against the Houston Oilers made Cleveland's final margin 11-8 – the only 11-8 game, it turns out, in NFL annals. (Then again, had he been unsuccessful, it would have been the only 9-8 game in NFL annals.)
Two decades into this Two-Point Conversion Thing, you can't say it's had a profound impact. There's never been a two-pointer in the Super Bowl that truly mattered, and only a handful that figured in other games of significance. One of the more notable ones in recent years was when Redskins backup QB Kirk Cousins ran for two points in the final minute of regulation against the Ravens in 2012 to send the teams to overtime (where Washington prevailed, 31-28). The victory kept the streaking Redskins in the playoff hunt, and Baltimore – surprise, surprise – went on to win the Lombardi Trophy.
Bottom line: The two-point conversion has been a nice conversation piece, something to occasionally screw up the betting line, but not much more than that.
Sources: pro-football-reference.com, The Official NFL Record and Fact Book, the Cleveland Plain Dealer, the Toledo Blade.