Chip Kelly, the Eagles' iconoclast/coach, was at it again on the first day of free agency. He swapped a quarterback for a quarterback, Nick Foles for the Rams' Sam Bradford. Talk about something that Just Isn't Done.
Or rather, it hasn't been done very often in recent years. The risk is just to great — the risk of looking like a dummy if the QB you traded turns out to be better than the QB you got in return.
Here's a factoid that might surprise you: Only 10 quarterbacks in NFL history have posted a passer rating of 110 or higher in a season. Three of them have been traded within two years of one of those seasons — while still in their 20s.
Foles, of course, is the latest. The details:
● Milt Plum, Browns — Had a rating of 110.4 in 1960, a league record at the time (and phenomenal for that era, which was much more hit-or-miss in the throwing department). Traded to the Lions in '62. (Particulars below.) Age: 27.
● Daunte Culpepper, Vikings — Put up a rating of 110.9 in 2004. Dealt to the Dolphins in '06 for a second-round pick (after blowing out his right knee the season before and asking to be traded). Age: 29.
● Nick Foles, Eagles — Posted a rating of 119.2 in 2013, the third highest of all time. Sent to the Rams in 2015. Age: 26.
But let's get back to the topic du jour: quarterback-for-quarterback trades. They always cause such a stir, don't they? Look at all the syllables that have been expended discussing the Foles-for-Bradford swap. And yet, none of these deals has resulted in an NFL title for either side (though one did lead to an AFL title). The more notable QB-for-QB exchanges over the decades:
● 1980 — The Raiders' Ken Stabler for the Oilers' Dan Pastorini.
I covered this trade in a recent post about one-for-one player swaps. Both quarterbacks were nearing the end, but Houston thought Stabler might have enough left to get the franchise to its first Super Bowl. Alas, he didn't. Pastorini, meanwhile, broke his leg in Oakland, but that merely opened the door for Jim Plunkett (and brought the Raiders two more rings).
Winner*: Oilers (not that the Raiders suffered any when they lost Pastorini).
*We're just comparing the QBs here. In most cases, other players and/or draft picks were involved in the trades.)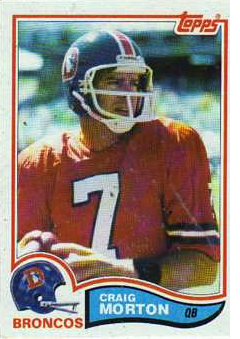 ● 1977 — The Giants' Craig Morton for the Broncos' Steve Ramsey.
Morton looked like he might be through after winning just two of 12 starts the year before. But he revived his career in Denver, guiding the Broncos — with the help of their famed Orange Crush defense — to the Super Bowl in his first season. Ramsey, an utterly forgettable QB, was cut by the Giants in training camp.
Winner: Broncos.
● 1976 — The Packers' John Hadl for the Oilers' Lynn Dickey.
Hadl's two seasons in Houston — his final two seasons — were spent mostly as a backup behind Pastorini. He was, after all, 36. But Dickey, a decade younger, had his best years in Green Bay. In the '82 strike season he quarterbacked the Packers to their only playoff berth in two decades (1973-92). The next season he led the league in touchdown passes (32) and passing yards (4,458).
Winner: Packers.
● 1972 — The Giants' Fran Tarkenton for the Vikings' Norm Snead.
In 1967 Tarkenton was traded to the Giants for the kitchen sink. Five years later he was traded back to the Vikings for slightly less than the kitchen sink. His second term in Minnesota was more fruitful. The Vikings went to three Super Bowls (though they didn't win any), which cemented his status as a Hall of Famer. Snead went to the Pro Bowl in his first season in New York but was shipped to San Francisco in Year 3.
Winner: Vikings.
● 1967 — The Bills' Daryle Lamonica for the Raiders' Tom Flores.
In Buffalo, Lamonica was stuck behind Jack Kemp, who had taken the Bills to three straight AFL championship games (and two titles). He blossomed in Oakland, going 36-4-1as a starter in his first three seasons (which ended with one loss in the Super Bowl and two in the AFL championship game). Flores, better remembered for coaching the Raiders to two titles, threw just 74 passes in Buffalo before winding up his career in Kansas City.
Winner: Raiders.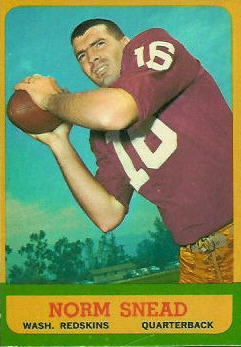 ● 1964 — The Eagles' Sonny Jurgensen for the Redskins' Norm Snead.
Amazingly, Snead was swapped not once but twice for a Hall of Fame quarterback. And while he may not have been Canton material himself, he wasn't a bad player at all — as his 196 TD passes attest. (When he retired after the 1976 season, he was tied with Bobby Layne for 10th on the all-time list.) But Jurgensen helped resurrect the Washington franchise, which had fallen on hard times in founder George Preston Marshall's final years. He was also one of the purest passers pro football has seen.
Winner: Redskins.
● 1962 — The Browns' Milt Plum for the Lions' Jim Ninowski.
This deal, which I mentioned earlier, didn't amount to much. I include it, basically, because of Ninowski's classic response when he got the news. Jim, you see, had been drafted by the Browns in 1958 before being packed off to Detroit, where he'd finally gotten a chance to play. He was far from happy, initially, about returning to Cleveland.
"I'm pretty disgusted," he said. "I have no intention of going to Cleveland. I'll quit football if I have to. You get tired of being tossed around like a toy."
Ninowski did go to Cleveland, though, and started seven games in '62 (Paul Brown's last year as coach). He spent five more seasons with the Browns as the No. 2 guy behind Pro Bowler Frank Ryan. As for Plum, the Lions went 11-3 with him the first year — the third best record in the league — but things went sharply downhill thereafter.
Winner: Lions. (Let's not forget, Milt also could kick field goals.
● 1958 — The Lions' Bobby Layne for the Steelers' Earl Morrall.
The trade reunited Hall of Famer Layne with Buddy Parker, who'd quit as Detroit's coach previous year and moved to Pittsburgh. Bobby didn't add to his ring collection (two) with the Steelers, but he did bring the club some much-needed credibility (in the form of three winning seasons). Morrall, just a third-year player, was nothing special in Detroit, but he had some nice moments late in his career with the Colts (1968, '70) and Dolphins ('72, their perfect season).
Winner: Steelers.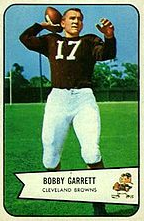 ● 1954 — The Browns' Bobby Garrett for the Packers' Babe Parilli.
What a wacky tale this is. Garrett was the first pick in the 1954 draft (making him that year's Sam Bradford). The Browns took him on the assumption Otto Graham, their legendary QB, was close to retirement. (Graham wound up playing through '55.) But get this: Coach Paul Brown traded Garrett to Green Bay before he'd even reported to training camp.
Why? One theory is that Brown didn't realize on draft day that Bobby was looking at a two-year military hitch following his graduation from Stanford. And indeed, the young quarterback spent the 1955 and '56 seasons in the Air Force. Here's the thing, though: Parilli, the fourth pick in '52, was already in the service — and wasn't discharged until '56. So who really knows what was going through PB's mind?
When Garrett rejoined the Packers in '57, Brown reacquired him. Guess who he sent to Green Bay as (partial) payment? Parilli. That's right, Bobby and Babe were traded twice for each other. But here the story gets even stranger. It turns out Garrett had a speech impediment: he stuttered. Brown had no patience for it — and ridiculed him on the practice field mercilessly. He was convinced it would keep Garrett from becoming an effective quarterback, hindering his play calling and especially his ability to check off at the line.
Paul Wiggin, the future Chiefs coach and a teammate of Bobby's, said in 2012: "It was just a misunderstanding of what stuttering was. It didn't solve the problem, it enhanced the problem."
Before the preseason was over, Garrett decided to retire and join his father in the real estate business in California. Such was life in the days before the Americans with Disabilities Act.
Winner: Tie. (Neither club benefited much.)
So ends our Brief History of Quarterback-for-Quarterback Trades. Let me know if I've left out any good ones. As you can see, they're better at generating noise than generating championships, though a few have had a significant impact.
Sources: pro-football-reference.com, prosportstransactions.com.