Until recently, a 2-14 season was a pretty deep hole for an NFL team to escape from. (Anybody got a pulley?) In the last few years, though, we've seen some of the quickest turnarounds in league history. Let me refresh your memory:
● After going 2-14 in 2011, the Colts changed coaches (Jim Caldwell/Chuck Pagano) and quarterbacks (Peyton Manning*/Andrew Luck) and earned a wild-card berth with an 11-5 record.
● Following a 2-14 bottoming-out in 2012, the Chiefs changed coaches (Romeo Crennel/Andy Reid) and quarterbacks (Matt Cassel-Brady Quinn/Alex Smith) and also earned a wild-card berth with an 11-5 mark.
● And now the Texans, 2-14 a year ago, are off to a 2-0 start with their new coach (Bill O'Brien) and new quarterback (Ryan Fitzpatrick). Looking at their remaining schedule — which includes home-and-homes against the Jaguars and Titans and only four games against clubs that made the playoffs last season — an above-.500 record, and possibly even a division title, seems within reach. (Assuming, that is, they continue to stay reasonably healthy, which is always a dicey assumption.)
Compare this to the first 33 years of the 16-game schedule (1978-2010). In those three-plus decades, only two 2-14 teams — two of 23 — posted a winning record the next season and only one made the playoffs: the Patriots in the '82 strike year, when they got help from a snowplow operator to beat the Dolphins 3-0 in a crucial game.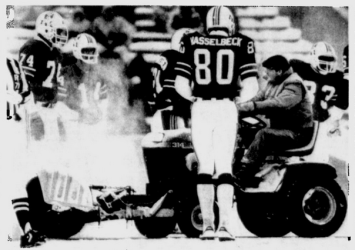 That, basically, is what it took for a 2-14 club to go playoff-ing the next season: a guy to get work-released from prison so he could steer a tractor across a snowy field and clear ground for the home kicker. Leigh Montville's column in The Boston Globe the next day was priceless. It began thusly:
He started to become famous when he hit the 20-yard line.

He was not famous when he started the little John Deere 314 tractor, still not famous when he put the automatic shift into drive, but by the time Mark Henderson reached the 20, the frozen hearts at Schaefer Stadium realized what he was doing, and he was on his way. Absolute strangers would be asking Mark Henderson, 24, of Walpole to "sign my forehead" before yesterday afternoon was finished.

"What made you do what you did?" this sudden, surprise hero was asked after he had helped the New England Patriots to their 3-0 upset win over the Miami Dolphins. "What started you going?"

"I just heard a voice," Mark Henderson said. "Someone shouted to me to get out there and clear the snow. And I just went."
Alas, most 2-14 teams don't reach the postseason the following year by divine intervention, aren't rescued by a convicted burglar hearing voices. Indeed, many of them go right on being bad, even worse. Like these four:
2-14 TEAMS THAT WON TWO OR FEWER GAMES THE NEXT SEASON
| Year | Team (W-L) | Changes Made | Next Year |
| --- | --- | --- | --- |
| 2008 | Rams (2-14) | New coach | 1-15 |
| 1985 | Bucs (2-14) | New quarterback | 2-14 |
| 1981 | Colts (2-14) | New coach, quarterback | 0-8-1 |
| 1978 | 49ers (2-14) | New coach | 2-14 |
Keep in mind, though, that the Niners had the happiest of endings. Bill Walsh took over as coach in '79, drafted Joe Montana in the third round that year and the rest, as they say, is history. Other 2-14 clubs also went to the Super Bowl not long afterward — four seasons later for the '81 and '92 Patriots and five for the '85 Bills.
Maybe that will happen for Colts, Chiefs and/or Texans in the next few years. But regardless, it's comforting to know the worm has turned. No longer is a 2-14 season like beginning of a lengthy prison term (where if you're lucky they might let you out on Sunday afternoons to drive a snow plow around an NFL field).
At least, not necessarily.
*Granted, Manning didn't play in 2011 because of a neck injury; Curtis Painter did (mostly). But the decision was between Manning and Luck, not Painter and Luck.
WHAT 2-14 TEAMS DID THE FOLLOWING YEAR
| | 1978-10 | 2011-12 |
| --- | --- | --- |
| 2-14 teams | 23 | 4 |
| Above .500 the next season | 2 | 2 |
| Playoffs the next season | 1 | 2 |