Yes, the NFL has become more specialized over the decades, but I'm not sure I expected this: No player in the first 14 weeks of the season has had a game in which he scored a touchdown both rushing and receiving and returned a punt or kickoff. (A year ago, three did: Darren Sproles, then with the Saints, three times and the Vikings' Cordarrelle Patterson and the Chargers' Danny Woodhead once each.)
I bring this up because, well, who doesn't enjoy seeing a player have one of those magical days in which he scores every which way — or, at least, more than two ways. Multitaskers such as the Eagles' Sproles and the Lions' Reggie Bush are capable of having a game like that, but they haven't. In fact, the only player in the last 38 years to score three different ways in a game is the Jaguars' Jimmy Smith in 1995, and that was kind of fluky. Smith's 14-yard touchdown reception was conventional enough, but his other TDs came on blocked punt that he recovered in the end zone and a trick play that saw him take a lateral on a kickoff return and run 89 yards.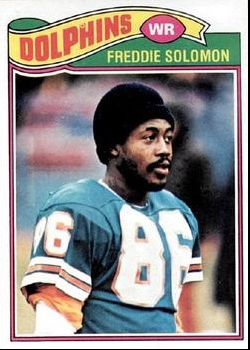 The last player before Smith to do it was the Dolphins' Freddie Solomon in 1976 (run, catch, punt). Now that's more like it.
Maybe I'm the only one who cares about this stuff, but the definition of an athlete used to be: a guy who can do pretty much anything. And it just seems that, over time, NFL teams have asked their best athletes to do less and less. There are reasons for this; I talked about them in Tuesday's post (larger roster sizes, protectiveness of their assets, etc.). But that doesn't mean the game is better because of it.
In 1941, the single-platoon era, Bears Hall of Famer George McAfee scored a touchdown five different ways (run, catch, punt, kickoff, interception). He also threw for a score. A bit more recently — 1959 — the Cardinals' Bobby Joe Conrad completed another kind of pentathlon, scoring two TDs rushing, three receiving, one punt returning, and booting six field goals and 30 extra points. (Too bad they didn't have the two-point conversion back then.) He, too, threw for a score.
Raise your hand if you'd like to see somebody do either of those things again.
It won't happen, of course. With rare exceptions, players no longer play on both sides of the ball, and nobody moonlights as a kicker anymore. That said, coaches could stand to be less conservative in their use of star talent. Would it have killed, say, Wayne Fontes to have Barry Sanders run back a few more kicks for the Lions? Sanders could have been one of the greatest returners of all time. The same goes for Darrell Green during his lengthy career in Washington. Think about it: Green covered kicks, but he only returned one in his 20 seasons (though he did return 51 punts — a whopping 2.6 a year).
This "What if he gets hurt?" paranoia didn't keep the Giants from having Emlen Tunnell run back more than 300 punts and kickoffs. The same goes for plenty of other Hall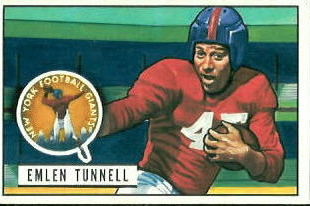 of Famers in pre-merger period. Granted, there was more of a necessity because of the smaller rosters, but coaches didn't get nearly as caught up in the what-if as they do now. They were trying to win the game, and that, to them, meant putting their best players on the field.
It isn't just the coaches. Many players, after they become established starters, seem to lose their appetite for returning. Can't blame them. Pro football, with its partially guaranteed contracts, offers less security than other sports. Why take on additional risk when a less-burdened backup can handle the job (though not as well, perhaps)?
And so it's left to the situation backs and by-committee types (e.g. Sproles and the Bills' C.J. Spiller) to do what Gale Sayers, Hugh McElhenny, Steve Van Buren and other Hall of Fame runners routinely did. More's the pity.
PLAYERS WHO HAVE SCORED A TD 3 DIFFERENT WAYS IN THE SAME GAME (SINCE 1960)
(And if anybody starts humming "The Way We Were," I'm gonna slug him.)
● Bobby Mitchell, Browns, Oct. 16, 1960 vs. Cowboys — 46 pass from Milt Plum, 30 run, 90 kickoff return. Total touches (from scrimmage and on returns): 12.
● Bobby Mitchell, Browns, Oct. 8, 1961 vs. Redskins — 52 pass from Plum, 64 punt return, 31 run. Touches: 10.
● Abner Haynes, Dallas Texans (AFL), Oct. 15, 1961 vs. Bills — 69 pass from Cotton Davidson, 3 run, 87 kickoff return. All three scores came in the fourth quarter and almost brought Dallas back from a 20-3 deficit. Touches: 21.
● Timmy Brown, Eagles, Dec. 2, 1962 vs. Redskins — 99 kickoff return, 3 run, 10 pass from Tommy McDonald (the only one the Hall of Fame wideout threw in his career). Touches: 19.
● Gale Sayers, Bears, Oct. 17, 1965 vs. Vikings – 18 pass from Rudy Bukich, 25 pass from Bukich, 96 kickoff return, 10 run. The last three came in the final quarter, with the kick return putting
Chicago ahead to stay. Just a classic game. The lead changed hands six times in the second half before the Bears pulled away to a 45-37 win. Touches: 22 (counting the 27-yard completion he threw).
● Sayers, Dec. 12, 1965 vs. 49ers — 80 pass from Bukich, 21 run, 7 run, 50 run, 1 run, 85 punt return. Touches: 16. This was Gale's Game for the Ages. On a muddy field in San Francisco, he tied the single-game record by scoring six touchdowns. Note it was the second time that season — his rookie season — he scored a TD three different ways in a game. (One of his teammates had a funny comment afterward. The best thing about Sayers' feat, he said, is that "We won't have to listen to George [Halas, the Bears' coach] talk about Ernie Nevers anymore." Nevers was the first player to score six TDs in a game — for the Cardinals against the Bears in 1929. The other was the Browns' Dub Jones, also against the Bears, in '51.)
● Sayers, Dec. 3, 1967 vs. 49ers (again) — 97 kickoff return, 15 run, 58 punt return. (Too bad he didn't catch any passes that day. He might have scored four different ways.) Touches: 15.
● Walter "The Flea" Roberts, Saints, Nov. 5, 1967 vs. Eagles — 91 kickoff, 27 fumble recovery, 49 pass from Gary Cuozzo. Touches: 5 (if you want to count a fumble recovery as a touch). Roberts' performance came in the first victory in Saints history. How do you like them heroics?
● Travis Williams, Packers, Nov. 2, 1969 vs. Steelers — 83 punt return, 96 kickoff return, 1 run. Touches: 11.
● Freddie Solomon, Dolphins, Dec. 5, 1976 vs. Bills — 79 punt return, 53 pass from Don Strock, 59 run. Touches: 7.
● Jimmy Smith, Jaguars, Dec. 3, 1995 vs. Broncos — Blocked-punt recovery in end zone, 89 kickoff return (after receiving a lateral from Desmond Howard), 14 pass from Steve Beuerlein. Touches: 4 (if you want to count a blocked-punt recovery as a touch).
As the number of touches (average: 12.9) indicates, none of these players were being worn out by their coaches. They were just being put to a greater variety of uses. Why not give a dangerous back more chances in the open field (and a couple fewer chances, maybe, from scrimmage, where the traffic is heavier)? It all comes down to how you allocate your resources. Something to think about.
Source: pro-football-reference.com