Five days after Veterans Day 1941 — and three weeks before Pearl Harbor — the Lions beat the Eagles 21-17 in Detroit. The winning score came with four minutes left on a pass from Dick Booth to Maurice "Footsie" Britt, a 6-foot-4, 210-pound end from Arkansas, "who sprinted in solitude for 45 yards," The Associated Press reported.
It was the only catch of Britt's NFL career. After the season he went into the army and became the first U.S. soldier to receive the three top combat decorations — the Congressional Medal of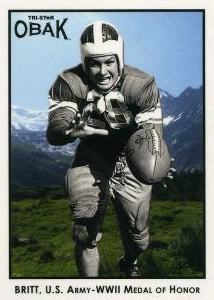 Honor, Distinguished Service Cross and Silver Star — in the same war (a feat later duplicated by Audie Murphy).
Britt's combat record was the stuff of legend. Whenever I've talked to players from that era about their war experiences, they've almost always mentioned Britt, everybody's hero. The unspoken message was: Yeah, I served, but have you heard about what That Guy did?
Britt's Medal of Honor citation reads thusly:
For conspicuous gallantry and intrepidity at the risk of his life above and beyond the call of duty. Disdaining enemy hand grenades and close-range machine pistol, machine gun, and rifle, Lt. Britt inspired and led a handful of his men in repelling a bitter counterattack by approximately 100 Germans against his company positions north of Mignano, Italy, the morning of 10 November 1943. During the intense fire fight, Lt. Britt's canteen and field glasses were shattered; a bullet pierced his side; his chest, face, and hands were covered with grenade wounds. Despite his wounds, for which he refused to accept medical attention until ordered to do so by his battalion commander following the battle, he personally killed 5 and wounded an unknown number of Germans, wiped out one enemy machine gun crew, fired 5 clips of carbine and an undetermined amount of M1 rifle ammunition, and threw 32 fragmentation grenades. His bold, aggressive actions, utterly disregarding superior enemy numbers, resulted in capture of 4 Germans, 2 of them wounded, and enabled several captured Americans to escape. Lt. Britt's undaunted courage and prowess in arms were largely responsible for repulsing a German counterattack which, if successful, would have isolated his battalion and destroyed his company.
And that was just one day in the soldier's life.
Early in 1944, during the bloody battle of Anzio, Britt lost his left arm. He later recounted the episode in the Chicago Tribune in a series of articles chronicling his heroism — and that of Company L, 30th Infantry Regiment, 3rd Infantry Division.
"Our company command post was . . . in a house," he wrote, "one of those standard Italian concrete or stone houses with the stairway on the outside. It stood on a knoll behind the lines and commanded a fine view of Cisterna and the network of roads behind the town. . . . Soon the Germans resumed shelling us. The roof and front of the house were now gone, and I stood at a window on the first floor, looking through my field glasses at German troop movements. Kneeling on the floor beside me was Lt. Carter of M company, who was assisting in directing mortar fire.
"I had just raised my arm to point out something to Lt. Carter when a tremendous blast shook the whole house. A shell had struck the casement of the window where we were standing.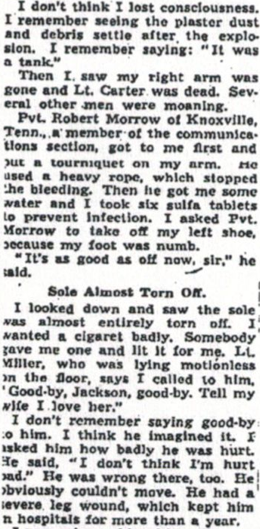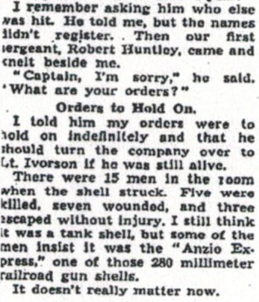 The war took the lives of 23 NFL men — 21 active or former players, an ex-coach and a front-office worker. Among them was Al Blozis, a mammoth — especially for those times — 6-6, 250-pound tackle for the Giants. You can read his story, in comic-book form, here.
At first, the army wouldn't take him because of his size. But in 1944, when the Allies were making their final push, he was inducted. I once asked one of his Giants teammates if he knew what had happened to Blozis on the battlefield. He gave me a sad expression, shook his head and said, "He stood up."
As for Britt, he lived to be 76. After starting out in business, he went into politics, was twice elected Arkansas' lieutenant governor, then settled into a post in the Small Business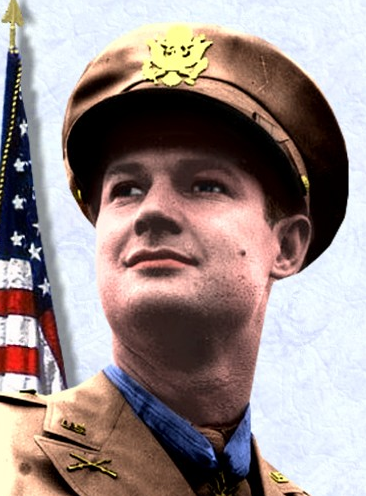 Administration. The New York Times, in his 1995 obituary, said he was "the first Republican elected lieutenant governor in Arkansas since Reconstruction . . . and paved the way for a new generation of Arkansas politicians, including Democrats in a new mold, like Bill Clinton."
He was a veteran's veteran, Britt was. Few soldiers had gone through what he had — and been able to tell about it later. I'll end with another passage from his Tribune series, describing another battle in the Italian mountains:
We took the second peak and dug in again. We had been in action or ready for action two days and a night without sleep and without fresh supplies of food or water. That night it rained again, and some of the men tried to catch water in a blanket that they formed into a kind of trough. They managed to collect a little bit in a helmet by wringing out the blanket.

Our mouths were so dry that cigarettes tasted like dust. We tried to wet our tongues, but there was no saliva. Our lips were crusted and cracked. Our stomachs had an empty, drawn feeling. But there was nothing to be done about it. The only men we could spare to run supplies had to carry ammunition, not food and water.
He earned the Bronze Star that time.