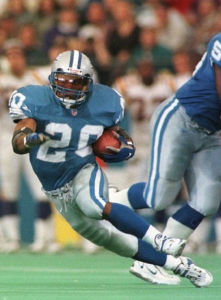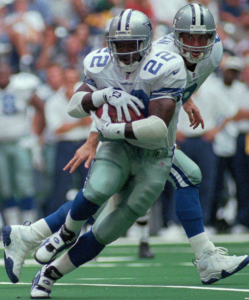 Can you imagine getting excited these days about a Running Back Duel — salivating at the prospect of two backs trying to match each other yard for yard, missed tackle for missed tackle, touchdown dance for touchdown dance? The position has been so devalued in recent years that I'm not sure such a thing is even possible anymore. Consider: The Eagles' LeSean McCoy and the Bears' Matt Forte, the NFL's top two rushers last season, crossed paths in Week 16. Did anybody think twice about it during the run-up to the game?
I raise these questions because 20 years ago this week we had one of the all-timers. Under the bright lights of Monday Night Football, two Hall of Fame backs at the peak of their talents gave us an evening of thrills not likely to be duplicated. In one corner, wearing the white jersey, was the Cowboys' Emmitt Smith. And in the other corner, decked out in Honolulu blue, was the Lions' Barry Sanders.
It was a matchup to die for. Sanders, 26, was early in his sixth season and had already racked up 6,925 rushing yards. Smith, 25, was in his fifth year and not far behind with 5,960. It was pretty clear that, barring an asteroid striking the Earth or some other cosmic catastrophe, both were headed to Canton. The discussion was more: Where do they rank among the great backs in history and, just as important, who's better?
In my own mind, they were certainly in the Top 10 — and moving up fast. Jim Brown, Walter Payton, O.J. Simpson, Gale Sayers and Earl Campbell occupied the highest rungs, but after that . . . Sanders and Smith were right there. In Barry, you had a back who never saw a tackler he couldn't elude, even in a telephone booth. In Emmitt, you had a runner who seemed to wring extra inches, feet and yards out of every carry. For their careers to overlap as much as they did — so we could measure them side by side — was one of the great blessings of the '90s, the running back equivalent of the Tom Brady-Peyton Manning rivalry today.
As for the "Who's better?" argument, it was a matter of taste, really — like the Leno-Letterman debate or the boxers/briefs conundrum. Sanders might have made more Wow Plays, but Smith ran like a 5-foot-9 Hummer. It was hard not to love both of them (and to love, as much anything, how differently they went about their jobs).
One of the reasons you knew they were special was because they didn't remind you of anybody but themselves. Joe Perry, the 49ers' Hall of Famer, once put it to me this way: "Running is mostly instinct, and you can't teach instinct. You can't teach somebody to run like [Hugh] McElhenny or Perry or [Jim] Brown or John Henry [Johnson]. That's their own, and it's God-given. It's like a fingerprint." Barry and Emmitt left their fingerprints — and footprints — all over the league.
Smith had enjoyed more team success with the Cowboys — two Super Bowl rings (with a third to come) to Sanders' none — but there's only so much a running back can control. Besides, part of the backstory to their '94 showdown was the Lions' 38-6 destruction of Dallas in the '91 playoffs, a game in which the two backs battled to a statistical draw (though Barry delivered the parting shot with a 47-yard touchdown run). Heading into the Monday nighter, Sanders' Lions had won two of three against Smith's Cowboys.
Then referee Bernie Kukar blew his whistle, Jason Hanson kicked off for Detroit and, amazingly, Barry vs. Emmitt actually exceeded expectations. A Hall of Fame quarterback (Dallas' Troy Aikman), Hall of Fame receiver (Aikman go-to guy Michael Irvin) and assorted other luminaries also were on the field that night, but you couldn't take your eyes off the two backs. Sanders struck first, breaking a 28-yard run in the second quarter to set up a touchdown pass from Scott Mitchell to Brett Perriman. But Smith, as was his wont, kept coming. If Barry was Muhammad Ali, floating like a butterfly and stinging like a bee, then Emmitt was Joe Frazier, his head in your chest, throwing shot after remorseless shot.
With 4:09 left in the fourth quarter, Smith ran 6 yards around right end to send the game into overtime tied at 17. The outcome, though, was decided not by one of the Main Attractions but by Aikman's sack-fumble at the Dallas 43. Five snaps later, Hanson booted a 44-yard field goal, and Detroit made off with a huge road win over the two-time defending champions.
The final stat sheet told the tale:
Sanders: 40 carries (his career-high by eight), 194 yards.
Smith: 29 carries, 143 yards, one TD, plus 7 receptions for 49 more yards. Yards from scrimmage: 192.
194 to 192. 76 combined touches. Two decades later, it still seems slightly unreal these legends could summon such a performance — especially in what would turn out to be their final head-to-head meeting. How rare was it? Well, the following chart puts it somewhat in perspective. (I say "somewhat" because none of the other games had nearly the Advance Buzz that Smith-Sanders IV did.)
OPPOSING RBS WITH 190+ YARDS FROM SCRIMMAGE IN A GAME (SINCE 1960)
| Date | Back, Team (W/L) | Yards | Back, Team (W/L) | Yards |
| --- | --- | --- | --- | --- |
| 10-14-90 | Barry Sanders, Lions (L) | 225 | Barry Word, Chiefs (W) | 200 |
| 9-19-94 | Barry Sanders, Lions (W) | 194 | Emmitt Smith, Cowboys (L) | 192 |
| 11-26-00 | Mike Anderson, Broncos (W) | 209 | Ricky Watters, Seahawks (L) | 203 |
| 9-15-02 | Edgerrin James, Colts (L) | 220 | Ricky Williams, Dolphins (W) | 194 |
| 12-1-02 | L. Tomlinson, Chargers (W) | 271 | Clinton Portis, Broncos (L) | 193 |
| 12-28-08 | Steven Jackson, Rams (L) | 215 | Michael Turner, Falcons (W) | 208 |
Why the NFL Network doesn't re-broadcast games like Barry vs. Emmitt on a regular basis is an eternal mystery. Then again, we all know the league's mentality: Keep the focus on today's players. We wouldn't want anyone thinking they aren't the greatest thing since the invention of the dropkick. At any rate, we're all the poorer for it — those of us, at least, who enjoy time travel (and aren't convinced that newer is necessarily better).
Sanders went on to lead the NFL in rushing that year with 1,883 yards. (His 2,000-yard season was still three years away.) Smith finished third with 1,484 — and also had a league-best 21 touchdowns. This, of course, was nothing out of the ordinary for either of them. You look at their numbers, season by ridiculous season, and you just shake your head.
Will we ever see anything like that again, two thoroughbreds — running backs who defined their position — galloping free across the, uh, artificial turf of pro football? I'm not so sure.
Which is why I wanted to spend a few minutes reminiscing about it. Just in case.
Source: pro-football-reference.com