A fairly noteworthy 50th anniversary is coming up — on Sept. 13, to be exact. It'll be interesting to see how much attention is paid to it. On that date in 1964, in the Bills' opener against the Chiefs, Pete Gogolak kicked the first soccer-style field goal in pro football history. I don't know about you, but I can't think of too many developments in the game that have been more impactful than that.
Contrary to popular belief, Gogolak, who went to Cornell, wasn't the original sidewinder, as they were called in those days. Others had preceded him in the college ranks, including Fred Bednarski at Texas, Evan Paoletti at tiny Huron (S.D.) College and Walt Doleschal at Lafayette. They all had a similar story: They'd spent their early years in Europe playing soccer, been displaced by World War II — or its turbulent aftermath — and sought sanctuary in the U.S. Not for a second did they ever think they'd revolutionize This Strange American Game.
"I couldn't believe what these people were doing — fighting each other!" Bednarski once told me of his first football impressions. It's a miracle, really, that Fred ever made it to America. He was 5 when the Nazis uprooted his family from Poland and dumped them in a labor camp in Salzburg, Austria. The living conditions there bordered on inhuman.
"In the wintertime, we had to melt snow just to have enough water to wash up," Bednarski said. "There was only one toilet at the end of the barracks. In our room we had two families — ours and an older couple. We used a blanket to separate us. There were triple-decker beds, no mattresses. We slept on straw with a sheet over it."
As for food, "It was really kind of a slow starvation. We were just lucky to be liberated by the Americans when we were. My mother weighed about 75, 80 pounds at the end of the war."
In 1957 Bednarski booted what's believed to be the first soccer-style field goal in college ball — a 38-yarder against Arkansas. But he, Paoletti and Doleschal are largely forgotten because, unlike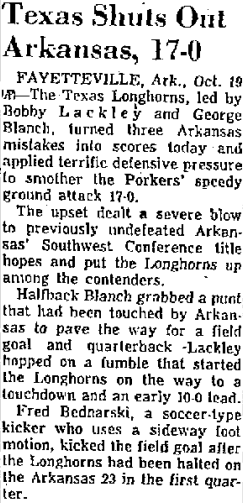 Gogolak, they never made it to the pros. It's a terrible injustice, because their innovation continues to have a profound effect on football.
Consider: In '57, the year Bednarski made history, NFL kickers — all of them using their toes instead of the side of their foot — were successful on 52.2 percent of their field goal tries. Last season they made 86.5 percent (and were good on 67.1 from 50 yards and beyond).
The goal posts have been moved from the goal line to the back of the end zone . . . and it hasn't mattered; the percentages keep going up. Indeed, most of the scoring rise in the league in recent years is due to kickers being more accurate, not offenses scoring more touchdowns.
Then, too, kickers are now specialists, among the most important members of any team. In the '50s, when rosters were much smaller, they tended to be position players who were versatile enough to handle two jobs.
And it all began — in the pros, at least — 50 years ago with Pete Gogolak stepping back at Buffalo's War Memorial Stadium and side-footing through a 13-yarder to give the Bills an early 3-0 lead in Week 1. Two seasons and 47 field goals later, Gogolak was in such demand that he jumped leagues and joined the Giants, a signing that intensified the AFL-NFL war and helped bring about the merger.
Yes, soccer-style kicking has made a huge mark on the game, though you don't often hear someone express that opinion very loudly. This is, after all, American football, not the kind that's so popular on the other side of the pond. It's no coincidence that only one pure kicker, Jan Stenerud, has found his way into the Pro Football Hall of Fame. Maybe we'll bat that subject around someday.
Sources: pro-football-reference, The National Forgotten League, The Associated Press.